Advantages and Disadvantages to Firefighting Agents
Tauren Corsinie
You may be wondering about the advantages and disadvantages to different firefighting agents.. iMist are here to answer those questions for you…
| | |
| --- | --- |
| Water Mist Fire Suppression | Fire Sprinklers |
| Water mist fire systems require less water than fire sprinklers, on an average of 80%. Therefore, water mist is more environmentally friendly as the iMist nozzle requires an average of 6 litres per minute (lpm). Less water means that our iMist pump(s) can fit in the most convenient places such as under the stairs or under the kitchen sink. | Fire sprinklers require more water, a minimum of 51 lpm per sprinkler. Sprinklers usually require a tank to be installed in your property, meaning that you could be loosing out on expensive square meterage. |
| Due to the water mist particles being able to evaporate quickly and less water needed to dispense, it means water mist systems cause less damage if the system activates on an average of 0.375 mm per minute. | Fire Sprinklers dispense 2.04 mm water per minute, which causes more water damage compared with water mist. |
| Water mist systems combat all 3 sides of the fire triangle, by suppressing the oxygen, heat and fuel. The most common cause of death for fire-related fatalities in 2017/18 where the cause of death was known was 'overcome by gas or smoke (30%)', which water mist minimises. | Sprinkler systems suppress fires by wetting the fuel surface. |
| When it comes to cost for water mist systems, the cost includes labour, pipework, nozzles and pump(s). At iMist, there are no hidden costs or sudden surprises. Once you approve our quotation, this is the price you will pay. | With fire sprinklers, there's many instances where you may need to purchase/install additional systems to comply with the sprinklers, such as water connections to run under your property. |
Please note: It is compulsory by law that both water mist and sprinkler systems are serviced annually to ensure the system is in working order and would be effective in the event of a fire.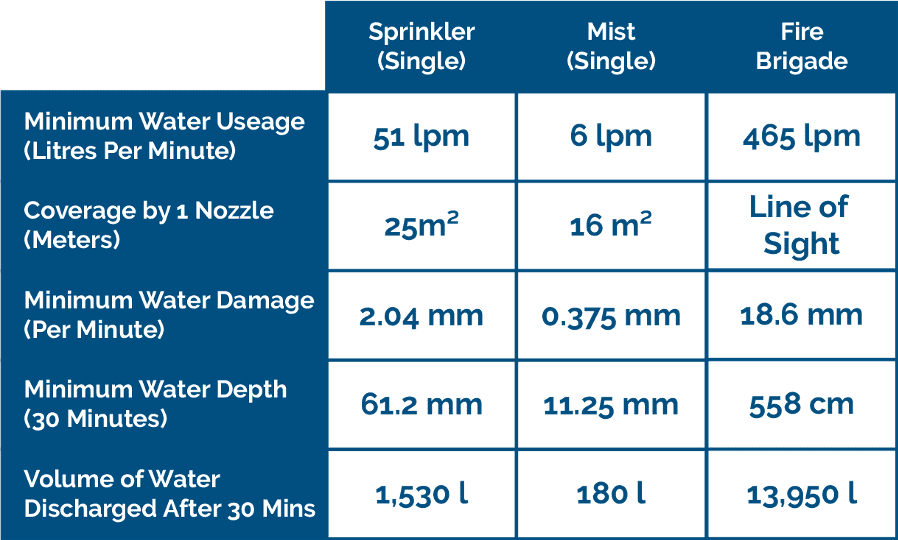 Why choose iMist for my fire suppression system?
We have been designing, manufacturing and installing iMist water mist fire suppression systems for our clients across the UK for 5 years. We have worked hard on obtaining and passing many third-party accreditations, and are now one of the most comprehensively tested and well-known water mist fire suppression systems.
Some reasons we think you should choose us for your water mist fire suppression system are;
109 years of combined industry experience
Well-known for the service we provide
Free 24 hour turnaround designs and free site visit to your property
Third-party accredited (see our list of certifications and reports on our website)
Cost certainty with no hidden costs or sudden surprises
Yes, depending on the nozzle layouts and ventilation condition. Water mist systems get successfully tested for tunnel and outdoor fires, and in test cells with windows/doors open. Once you've decided on a company, they will be able to show you where is accurate to place your nozzles and system.
Some companies, including iMist, can be connected to third party systems such as fire panels, fire alarm systems, AOVs (Automatic Opening Vent), SMS units, fire curtains and more.