About iMist Fire Suppression Specialists
iMist fire protection systems are easy to install, cost-effective, discreet and allow greater adaptability than the traditional water mist and sprinkler systems on the market. The iMist system has been rigorously tested and can be installed in almost all residential and domestic property types.
Our aluminium nozzles are discreet and available in any RAL colour to fit in with your home decor. The nozzles protrude 2cm below the ceiling and have been designed to disappear into your ceilings landscape.
We use high-quality flexible hoses with a stainless steel braiding and hydraulic fittings for our fire suppression system, which leads to a quick and smooth installation process. It is worth noting that our design and installation process is audited by a third party, so you can have peace of mind that we are working as efficiently and effectively as possible. Large volume installations are typically 3 times faster than an equivalent sprinkler system, even in the most challenging historical properties.
The iMist alternative fire sprinkler system is manufactured and designed in our factory, which is ISO 9001:2015 audited.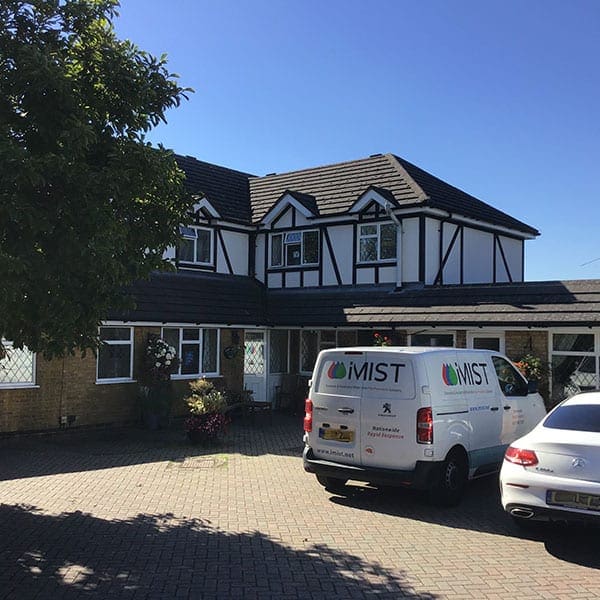 Third Party Accredited Systems
We have worked hard with third-party accreditors to obtain our accreditations for installation, design and manufacturing.
Below are our third party approval certificates from BSI, in accordance to ISO 9001:2015.
How Did iMist Fire Suppression Begin?
iMist set out with the goal to make the installation of fire suppression systems for domestic & residential dwellings easier and quicker than it historically has been.
Taking into consideration what traditional fire sprinkler companies were required to do to install in domestic and residential dwellings, iMist decided that the length of time for installation, alongside the need for considerable amounts of water and disruption caused by fixed pipework, were what led many people to get frustrated at the industry.
Over the last few years, we have developed a system and company not to be underestimated. iMist are, in fact, one company, of only a few, around the world that keep everything in house from manufacturing, through to design and installation, and then to final sign off.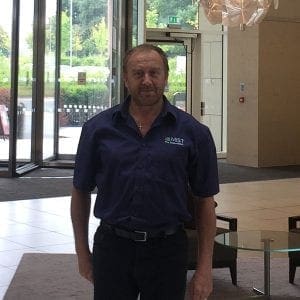 Tony has been working in the fire suppression industry since October 2013 – with an impressive career that spans over 40 years and includes an employment history with companies such as Marks & Spencer and Kingspan, before creating the company iMist, in 2015.
From experience and just a laptop, Tony has managed to build an international team to help to promote the benefits of the iMist system. What Tony loves most about the company is opportunities to turn into a reality.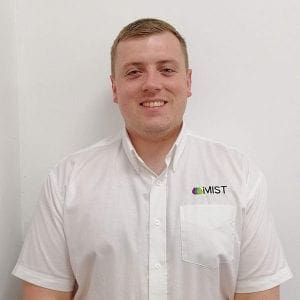 Alex co-founded iMist with Tony in 2015, having completed several years in the industry, designing mist systems for other companies. His career started at iMist with completing all tasks, from selling & designing the system, to installation and certification of the system.
What he loves most about iMist is the people, both customers and staff. Once you understand their personality, you can guide them to fit in and help them to grow, as well as growing the business. He likes to give people a voice, as every opinion and idea is a valid one.
Fire Suppression Installation Case Studies
We've installed our fire suppression systems all over the UK. 
Click below to see our case studies for some of our previous projects.
Find your local iMist office